Even the best conditioners are only designed to work for about 4 days. If your wash cycle is longer than 4 days or if your hair is in need of a boost during this time, a good quality hair moisturizer is key. Regularly moisturizing my hair and following with a light coat of oil, have made an incredible difference in the manageability, texture, and elasticity of my hair.
A good moisturizer is water based and void of cheap fillers such as petrolatum and mineral oil. However, finding a moisturizer without these ingredients can be more elusive than finding the pot of gold at the end of the rainbow. But, you know your hairmakeuplove guru would not leave you hanging, now would I?
Here are my faves: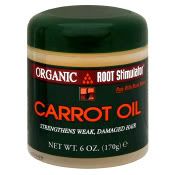 1)
Organic Root Stimulator Carrot Oil Creme
- This is my staple moisturizer. I love how light it is and how it really gives my hair moisture without weighing it down. I apply it to my hair in dime-sized amounts as needed.

2)
Giovanni Direct Leave-In Conditioner
- This may not have been designed as an everyday moisturizer, but leave-ins work great as moisturizers. They generally have higher quality ingredients and they have light enough formulations to be used on a daily basis. Giovanni Direct Leave-In is one of the best that I have tried and who doesn't love a multi-tasking, overachiever?