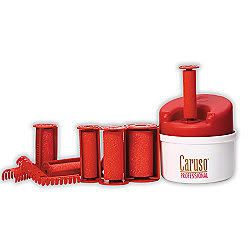 About a week ago, I managed to talk the hubs (that's my husband to those of you who are sticklers for proper word usage and all that jazz) into buying me the
Caruso Professional ProSet Steam Hairsetter
. Perhaps his blood sugar was low or he confused
Sally Beauty Supply
for
Game Stop
, but he took me to Sally's nonetheless and turned my product junkie wishes into reality. I had actually been eyeing this thing for quite a while but I had managed to employ some restraint. Either way, it was just under $30 after tax with my Sally's card (so worth the 5 bucks by the way) and I have used it twice so far.
If you read my last post, you know I am several weeks post relaxer (almost 7 now) and my new growth is coming in something viscious. So, the first time I tried it was last Saturday. I had done a braidout a few days before and I wanted to see if I could use this hairsetter to extend the life of my braidout. I normally just wear a braidout 3-4 days and wash my hair when I'm ready for a new style, but I was hoping the steamsetter would let me eek out another day. Well... no such luck. I don't know; I feel like I'm only person to not have a good experience with this thing but it just did not do it for me. My hair felt great when I first took the rollers out- super moisturized and soft. And then like Mr. Hyde morphing in Dr. Jeckyl, it got hard, dry, and reverted back to its braidout crinkliness.
Not being one to write off a product after one use, I was determined to give it another go. This time I tried it on my hair a few days after a rollerset. This time I left the rollers on the steamer a few seconds longer (about 7-8 seconds), figuring that perhaps the first time I did not let them get quite steamy enough. I wish I had good news, I really do but no go. My hair was very moist when it took the rollers out (a good 30-40 minutes later), not moisturized but just plain moist! I was forced to blow dry the curls lightly and, just like before, within a few minutes my hair was hard and my curls were falling. I haven't felt my hair in this state since before I began my hair journey and I was not happy to be reunited with my pre-hair journey self.
Help me out ladies, am I missing something? I thought this thing would be the holy grail for a healthy hair care maven, like myself- a great, no heat way to add curl and body to your hair. The tenacious girl that I am, I will give it one more go after I get my relaxer (one more week!), so I can see if it's something that works better on just relaxed hair. But for now it looks like I'll be sticking to my rollersets.