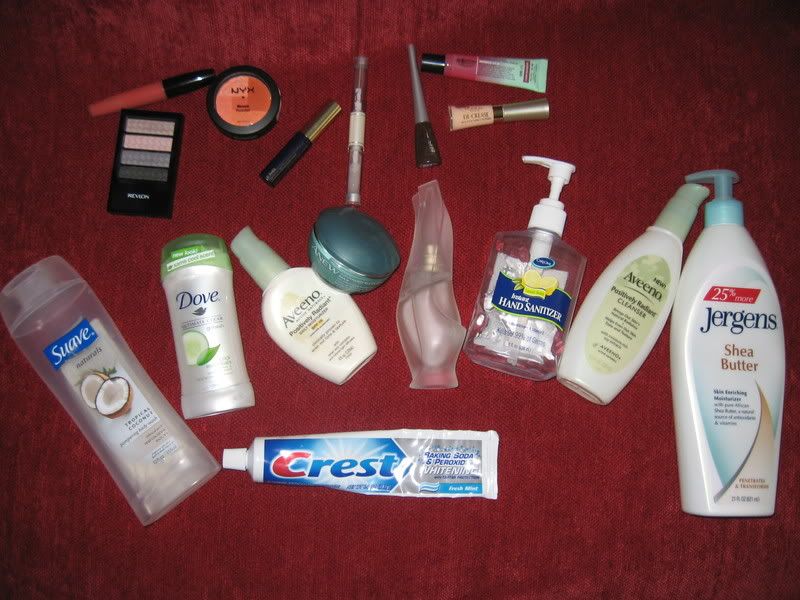 While I was on the thought of maintaining oneself, in terms of your appearance, I came across
this
blog post on the Sephora blog. It's says that women, on average, use 12 beauty/toiletry type products per day while men only use 6. It really got me thinking about how many products I use per day. This is what I've used so far today:
Toothpaste
Aveeno Positively Radiant cleanser
Aveeno Positively Radiant moisturizer
Avon Renew face cream (I used this on my cheeks because they have been dry latterly and this cream has a thicker consistency than the Aveeno)
Suave Tropical Coconut body wash
Jergen's Shea Butter lotion
Dove deodorant
Donna Karan Cashmere Mist perfume
Revlon Colorstay eyeshadow quad in Sterling Rose

L'oreal Decrease (I haven't sprung for the much loved Urban Decay Primer Potion yet. This stuff is cheaper, $8.99, and works pretty well)
Estee Lauder Sumptuous mascara (This was a free sample. It works well but I don't usually go for expensive mascaras since you have to toss them so often)
Wet 'n' Wild liquid liner in dark brown
NYX Mosaic Powder Bronzer in Love (I like that this doubles as my blush and bronzer)
Avon lipgloss in Canteloupe
ELF clear brow gel/mascara duo (I've been using this for my brows; I'm not in love with it but I hate being wasteful and I'm all out of my Covergirl)
C.O. Bigelow Mentha Lip Shine (I use this throughout the day in lieu of Chapstick)
Johnson's baby lotion (I have this at my desk at work for use after washing my hands; not pictured)
Hand sanitizer
I never realized just how many products I use during the course of the day. I haven't decided if my total is a good or a bad thing yet. How do you measure up?