A few weeks ago my husband stumbled upon Suave's Tropical Coconut Body Wash and we have been in coconut heaven ever since. I say we because it smelled so incredible that I couldn't let him have all the fun. For once his frugality has paid off (I shop to balance quality and price, he wants to know: how cheap is it?) because I have been in love since. The rich smell permeates the house long after you have left the shower without being at all overpowering. I wouldn't call it a moisturizing body wash, which is what I normally go for, but it not drying either. I just follow it with my usual post shower routine of Jergen's Shea Butter lotion and a few spritzes of good ole Johnson's baby oil (I transferred mine to a spray bottle for easier application). If moisturizing then sealing works for your hair, why not your body, right? I was previously cycling between Dove's Deep Moisture body wash and Olay's Body Wash plus Body Butter Ribbons (which unfortunately leaves an oily film on your hands... ick) but this stuff is cheaper and just as fabulous.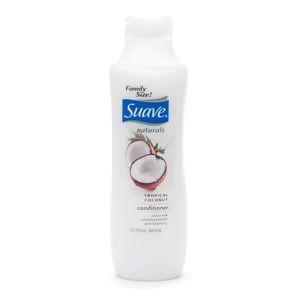 All of this led me to try Suave's Tropical Coconut conditioner which I got on sale for about $1.50. I've used it mixed with coconut oil as a prepoo (pre-shampoo treatment) and as a quickie conditioner in the shower. I must say this stuff is wonderful! It really is an
instant
conditioner because all I did was apply it on my hair and rinse it off about a minute later and my hair felt so incredible. I could not believe it. I normally use Nexxus Humectress as my in shower conditioner (this used to be my staple deep conditioner but I have since found things I love even more so I am using it up) but this Suave works just as well (if not better,
shhh)
as an instant conditioner. And you cannot beat the price! Mind you, I would not use this as a deep conditioner without some finagling but as a instant or a conditioner wash? Puhlease! This stuff is the ishh. Sorry, Brooklyn moment. Either way, it has the same great smell as the body wash too, so all I need is a coconut body lotion and I'll have the trifecta of coconut deliciousness.
Ingredients:
Water (Aqua), Cetyl Alcohol, Cetrimonium Chloride, Potassium Chloride, Fragrance (Parfum), Distearyldimonium Chloride, Disodium EDTA, Glycerin, 2 Bromo 2 Nitropropane 1, 3 Diol, Methylchloroisothiazolinone, Methylisothiazolinone, Propylene Glycol, Silk Amino Acids, Honey (Mel), Nettle (Urtica Dioica) Extract, Rosemary (Rosmarinus Officinalis) Extract, Coconut (Cocoa Nucifera) Extract