Well, the people ELF must have been listening because I finally got my package!!!! Yes, finally- 3 WEEKS after I placed my order. 3 WEEKS! I didn't know that a company could do business in this century with such horrible business practices. Oy! Anywho... wanna see what I got??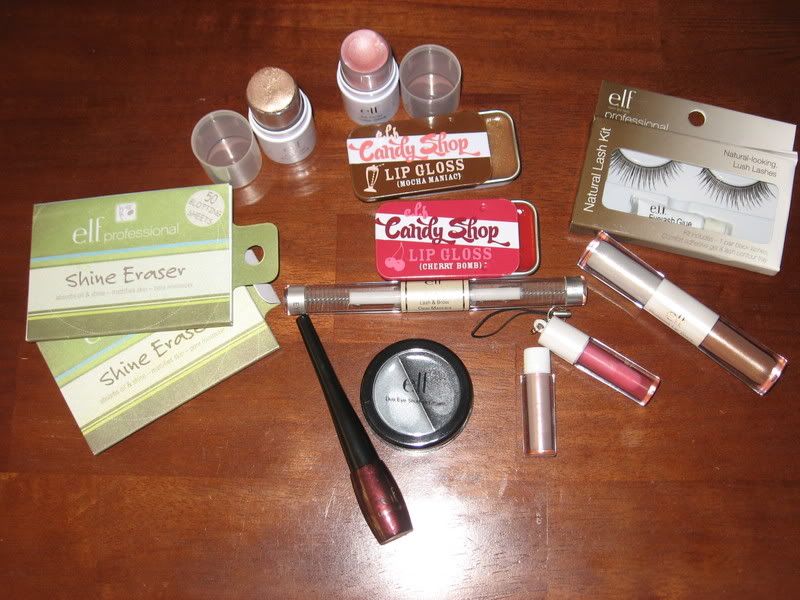 I actually faired better than most and received 12 out of the 13 things that I ordered. They did not have the
Earth & Water Mascara Duo in Noire that I ordered. It's a double ended mascara with one regular end and one waterproof end. They however have (pictured clockwise):
Shine Eraser blotting sheets
All Over Color Stick in Toasted
All Over Color Stick in Lilac Petal
Candy Shop Lip Gloss in Mocha Maniac
Natural Lash Kit
Candy Shop Lip Gloss in Cherry Bomb
Wet Gloss Lash & Brow Clear Mascara
Plumping Lip Glaze in Champagne
Lip Gloss Cell Phone Charm Duo (free gift)
Duo Eye Shadow Cream in Black Licorice
Waterproof Liquid Liner in Plum
As for the missing item, Elf did give me a credit. This is the other downfall of shopping at Elf. They simply return your funds and ship what they have in stock rather than shipping the missing items once they are in stock. Humphf!
So, why bother ordering from Elf at all? The hope of finding something wonderful, a little buried treasure, shall we say. Case in point? Their liquid liner!!! As you can see from the list above, I did order one of their liquid liners in plum, a really pretty deep wine color.

This stuff is wonderful. It is very pigmented and it works as promised.
It really is waterproof and I plan to get one in every color. I normally use L'oreal Lineur Intense Carbon Black liquid liner which runs about $8.49 at your local drugstore, so you can imagine my excitement at being able to replicate the same fabulosity for $1.00. And what of the money spent of shipping, do you ask? Well, I found a coupon code online that saved me $6.00, basically the cost of shipping which is a flat $6.95! Try code "Carolina." (Tip: Before I order just about anything online, I do a quick Google search for a coupon code. You'd be surprised how often you will find one.)

So, my tips for ordering from Elf:
1) Do your research!! Look for reviews online to tip the hit/misses odds in your favor. Youtube is wonderful for reviews and tutorials. Youtubers Lostris143 and EmilyNoel83 have great Elf reviews.
2) Order what you want, not what you need. Do you not place an order for items that you are almost out of or need right away. My order took 3 weeks to arrive and from what I have read, this is no aberration.
3) Have fun and try new things! This stuff is only $1.00 so this is the perfect time to go outside the box. I already have a great black liner I love, so I took this opportunity to try one in a different color.

I'll be reviewing the other items I received in the coming weeks, so stay tuned.