It seems like almost overnight I have become completely enveloped by hair and makeup sites. I shudder to think how much I have spent on hair and makeup products in the past six months… especially in these recessionary times (but we're not allowed to say the R word, are we?) Anywho, all work and no play yada-yada, you get the gist. So, I have decided to see if I channel my love into more writing and blogging and less buying, which will indeed benefit my wallet and perhaps my marriage. =) So, if anyone finds this the least bit interesting, please let me know. And if not, let's just pretend this never happened, okay?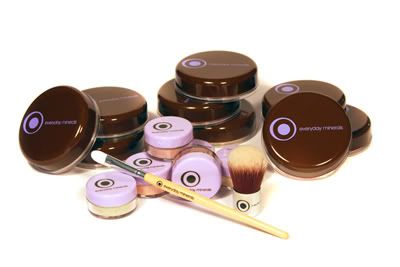 Now that the pleasantries are aside, let's talk. I just ordered the sample kit from Everyday Minerals. As part of my rampant obsession, I have gotten into watching makeup tutorials on Youtube and many of my favorite makeup mavens love Everyday Minerals. They say this stuff is just as good, if not better, than Bare Escentuals for a fraction of the price. The only deterrent is that they do not sell in stores. However, you can order samples for just the cost of shipping. The sample kit includes 3 foundations, 1 blush and face Color, and 1 concealer. For shipment to Maryland it cost me $3.09 and I also ordered two eye shadows for $2.50 each because what the heck? I've still only spent like 8 bucks and I get tons of stuff to try. So, according to their site my makeup has shipped (yay!) and as soon as I receive it, I will post my review.

I also placed an order at ELF since I've heard some good things about their makeup as well. They are the kings of cheap makeup as most everything they sell is only $1.00, but alas, there is always a "but", their shipping SUCKS!!!! I placed my order on 6/30/08 and still no word. Nothing. Nada. I'm not sure how a company can do business like this. Yes, I get that this stuff is cheap and you can't expect much but I can expect decent customer service. I digress. If I receive these products before I am old and gray and have completely forgotten what makeup is, I will review this stuff too.

I could really go on and on but I will save some for another day. Happy Friday!!!